Here's Your Free Must-Have Guide to Tax Deductions for Small Business!

Share With Friends And Colleagues
---
Is It Deductible?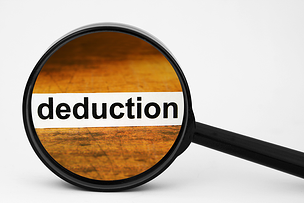 When it comes to taxes, nothing is ever clearcut — especially if you own a business. And if you are just starting a business you probably find yourself asking this question … a lot.
Or maybe not.
Sometimes we don't know what we don't know. That's where our Checklist of Business Deductions comes in. We want you to take advantage of every deduction you're entitled to, and this handy checklist is designed to help you start thinking like a business owner.
Have you considered the tax implications of these common business expenses?
Employee salaries and other compensation
Utilities or moving expenses
Accountant and attorney fees
The Checklist of Business Deductions will point you in the right direction and, when the time is right, lay the foundation for a deeper dive with your business accountant. So, submit the form to the right to download your copy right now.
Claim Your Free Checklist of Business Deductions